Master Bathroom design…! Are you having trouble with it? And looking at how to design it with full functionality without compromising its beautification? Master Bathroom is one of the most expensive and attention-gaining places in the home and you must be conscious of its every aspect so you will not have any regret after decorating it.
Here are the 5 super tips which are going to help you in finalizing the design of your master bathroom. These tips are going to help you how to fix your bathroom layout, and the selection of finishes, fixtures, and accessories. In the end! You will have super sound ideas to design your master bathroom more appealing without compromising the functionality.
Still, the way toward choice is open and you can design your master bathroom as you deemed fit for your family!
1. The layout of the Master Bathroom
The master bathroom is a precious part of a home. It is the place where the owner of the house like to spend more time to have peace and relaxation. We usually connect the master bath to the master bedroom, which occupies a large space on the floor plan as compared to other bathrooms. The master bathroom utilizes various types of functionality with its diversified features, such as jetted tub, shower, partitioned toilet, and multiple sinks and vanities. Mostly, people also equipped it with features of a sauna or steam room.
Deciding how to plan the layout of your Master Bathroom is the most crucial brainstorming factor while revealing it on your floor plan. The provision to place all the dreamed functionalities in your bathroom to make it a master bathroom is the factor of the available space that should be suitable to accommodate all the necessary elements of the master bathroom and give you a luxurious feel.
Before initiating the layout for the master bathroom, it is essential to check or survey the basic requirements that you should fulfill in your proposed layout. The following are the self-ask questionnaires that will help you in finalizing the suitable layout for your master bathroom.
Determine how and by whom it will be used
Multiple family members, i.e., husband and wife, widely used the master bathroom at the same time. However, in general, kids also accompanied and utilize the master bathroom along with parents. Therefore, it is essential to have an idea of users before you going to fix your master bathroom layout. When the master bathroom is serving multiple users at the same time, it should have double sinks, a large shower area if you plan to have a kid's shower, ample storage for each user's toiletries and linens, etc.
Do you want a closet?
If yes, then where you are going to provide it? There is no specific rule to have it. You can either give access to the bedroom to walk through the closet or attached it to the master bathroom. The choice is up to you. Mostly, husbands show their love for their wives. The closet is mostly attached to the bathroom, so they can be ready for the office or meeting without disturbing them.
Do you want a spa or a bathtub?
If yes, there is a wide range of showers and bathtubs that can be fixed in your master bathroom. Again, it depends on your choice and the floor area that you have designated for the master bathroom.
Do you want a separate toilet area?
I am in support of having a separate toilet area. The separators between the toilet and sink area give privacy as well as allow multiple users to use the master bathroom at the same time.
Do you want a double sink?
The provision of a Double Sink gives access to both husband and wife or kids to get ready for any occasion at the same time instead of waiting for one to come out.
Do you want a makeup vanity setting area?
If you have an area left in your master bathroom, then the placement of a vanity for makeup will be a good choice. It will be fun and you can have a better appearance in your master bathroom with a vanity seating area.
The size of the master bathroom truly depends on the functionalities that are you going to add to your master bathroom. Keeping in view of the luxurious appearance, the master bathroom size is to be considered as the size of the small bedroom, i.e., 10' x 12'. But it is not necessary to have a specific size, it can vary from small to big. However, it is necessary to maintain clear spaces between the fixtures. You need to consider safe entry, safe exit, and safe movement around empty spaces.
Well! If you have a small area proposed for the master bathroom, you still have the option to make it luxurious by selecting beautiful finishes.
2. Design consideration in the master bathroom for finishes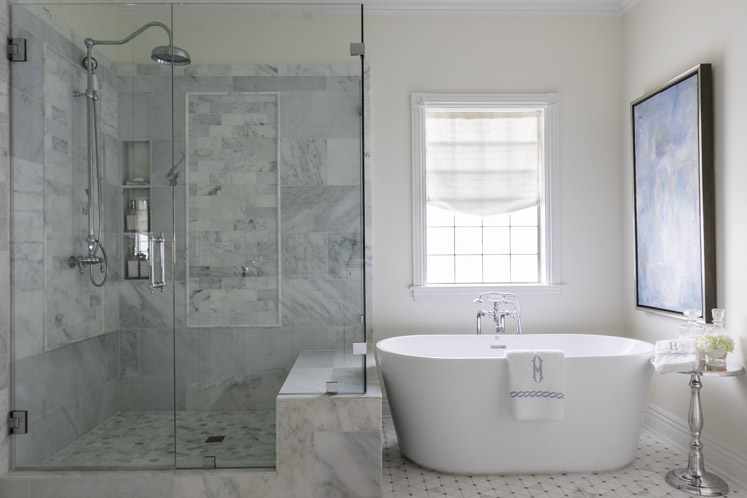 The master bathroom is one of the masterpieces that requires a lot of consideration concerning sizes of window openings, area distribution for finishing fixtures, wall colors, and selection of floor tiles, doors, and fixtures.
The master bathroom elements are categorized as fixed finishes and changeable finishes. For fixed finishes such as a commode, bathtub, cabinets, tiles, etc., that are installed single time they need to be optimized and remain subjected to the test of time. However, there are a lot of spans available to choose the changeable finishes such as rugs, towels, and shower curtains.
If you have not planned to place a bathtub in your master bathroom, nowadays the shower area is commonly adopted. But, if you think after 5 to 6 years and are required to fix the bathtub, for this purpose, you can leave the required plumbing points to fix the tub in the future.
For the shower area, you can add a glass shower door which will help you to look bigger in your bathroom. Glass shower doors not only provide privacy but also help you in maintaining the temperature. Glass doors going to enclose your shower area. And in winter, the glass shower door provides you to resist cooling inside the shower area.
Color selection is very important whether it is for the tiles, cabinets, or walls. You need to build a cohesive color scheme right from the space that is connected to the master bathroom, and that is your master bedroom. You need to have a cohesive flow in your color scheme, hardware finishes, and cabinet colors. If your bedroom color is bold, then you must have a natural color in your bathroom. There are some suggestions for the colors:
Fixtures Color: Nickel / Silver, Black, Oil rubbed bronze or Brass
Cabinet Color: White, White oak, Gray, or Espresso
Tile Color: Natural Colors, White, Gray, or light brown
Wall Color: White, Gray, Tan, Beige
Textile Color: Fashionable, trendy, cool for rugs, towels, and shower curtains (These can be replaced easily)
3. Beautiful Vanity Mirror
The selection of the Vanity mirror is as important as other fixtures. There is a wide choice available for the vanity mirror. You can go for the complete mirror wall for the vanity. However, the mirror above each sink and the cabinet between the two mirrors are very appealing. These mirrors also same colored frame as your cabinet.
You can have framed mirrors with high quality which you are going to fix in your other rooms. I mean, you can install a luxurious mirror instead of just a bathroom mirror.
Presently, LED bathroom mirrors are mostly used in bathrooms which can fill the lag in lighting demands when one is using a vanity.
4. Lighting in your Master Bathroom
Sconces are a brilliant choice over mirrors if you want to add some different lighting effects to your master bathroom. LED strips are also a variant option to use along the cabinets and vanity to glow your master bathroom and give a more appealing look.
You can also add a center ceiling light for the toilet portion if it is separated and you can also add the provision of the fan too. Don't forget to add a dimmer for the light so you can have dimming effects like you are showering in a spa.
5. Selection of Hardware & Accessories
The selection becomes confusing when you are going to buy sink faucets, towel bars, robe hooks, shower hardware, and cabinet hardware. It is suggested to have the same scheme of hardware you must use for the overall master suite.
The plumbing fixtures and accessories should be of the same color to give a uniform look. You can easily overcome the selection procedure by selecting a complete family of hardware such as a toilet paper holder, Towel Bar, towel ring, robe hook, etc.
Conclusion
Now! You have covered 5 super tips for designing your master bathroom more beautifully and having efficient functionality. It is suggested that you must think about your family and the users and streamline your choices accordingly. I hope this article will help you to finalize your choice of the top highlighted aspects of the master bathroom confidently.
If you like this article and enjoyed it, PLEASE DON'T FORGET TO SHARE IT with your family and friends. Also, I love you have your adopted master bathroom design tips below in the comments!